The Arlington-Mansfield Area YMCA offers a variety of sports where our sports staff, coaches and volunteers all share a singular vision of helping everyone reach their full potential in life. Our sports programs are for all, helping to build confidence and positive relationships that lead to good sportsmanship and teamwork, with flexibility in offerings and schedules in mind that are designed for family convenience. 
Youth volleyball provides an introduction to the popular sport invented at the YMCA. Participants progress from learning the rules to developing skills in the areas of bumping, setting and serving that combines team play with individual skills. Our focus is on being safe while having fun, the value of participation over winning, supporting positive relationships and good sportsmanship by instilling a sense of fair play and mutual respect for others.
YMCA youth soccer is designed to encourage participation and having fun. The basic skills of the game are developed through practices and games coached by volunteer coaches. Our program focuses on building character and incorporating friendly competition. Every child will learn sportsmanship and the values that are necessary to be successful in life.
Flag Football is offered multiple seasons at the YMCA. This skills-driven sport offers friendly competition and a focus to develop the skills fundamental not only to play the sport, but also to be successful in the community through commitment, dedication and sportsmanship. Our goal is to cultivate our youth into becoming outstanding people just as much as helping them become outstanding players. Flag football is fun for everyone!
Youth Baseball, T-Ball & Softball
Youth baseball, t-ball, and softball is an exciting sport that develops team play and individual skills while making friends. Your child will learn fundamentals, nurture their skills and feel the support of coaches and a team. They will also learn teamwork, sportsmanship and build a community from within. We aim to keep every child moving and focus on their health and well-being, providing a fun and positive experience for kids to enjoy the game.
After over a hundred years of teaching this sport, we've learned a thing or two. YMCA basketball emphasizes fun while encouraging fundamental skill development, teamwork and sportsmanship. Our program gives kids exposure to positive competition as they continue to grow as a player, athlete and person by focusing on skills, rules, mechanics and basics like listening to coaches or being a good teammate to help participants refine their skills in a sport they love.
Our program is designed to teach kids and adults the fundamentals of archery. It focuses on concentration, patience, and confidence essential for safety and enjoyment of the sport. We want you and your kids to have fun and meet new friends in a non-competitive environment.  Instructors are USA Archery Certified.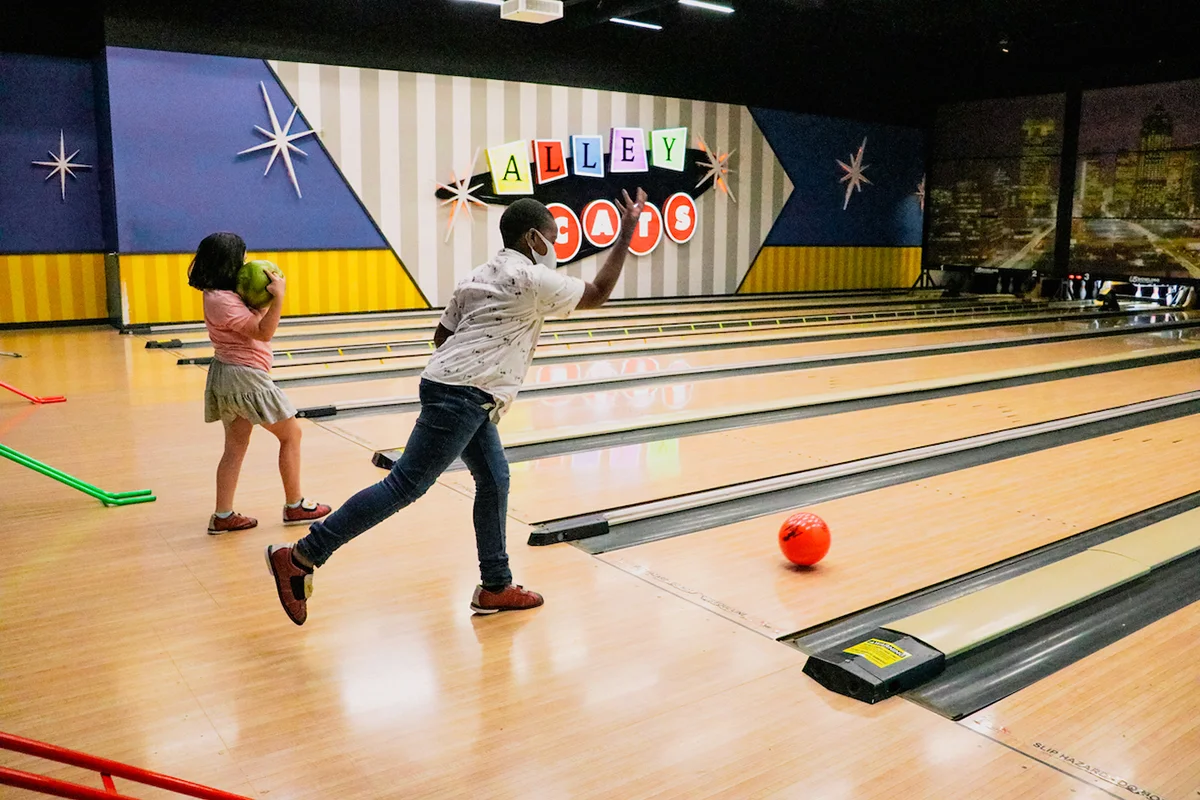 Bowling is America's #1 participation activity and is loved by children ages 5-12. Over 40% of this age group bowl at least once per year! Our YMCA youth league bowls Monday evenings and select Tuesday evenings. Teams warm up 15 minutes prior to the start of games. Each player will bowl two games every week individually that contributes to a team score. Keep an eye out for seasonal Adult Bowling leagues!
Cheerleading at the Arlington-Mansfield Area YMCA is a great way for youth ages 5-12 to build confidence and character while developing social skills and healthy relationships with other children! Participants will learn the fundamentals of cheerleading including basic motions, jumps, cheers, chants, and put their skills to practice.
The Martial Arts program provides instruction in kicks, blocks, and punches for self-defense to kids and adults. We focus on teaching the tenets of courtesy, integrity, perseverance, self-control and Indomitable spirit while building strength and balance in a positive, can-do environment.
Lacrosse is designed to teach young players the fundamentals of the game. Players learn through drills how to scoop, pass and catch in a fun team atmosphere with minimal contact. The focus of this program is to master the basics before advancing in the sport. Players who complete "Intro to Lacrosse" program have the opportunity to register for other lacrosse opportunities that involve team-oriented play and tournaments. 
Our youth track and field program is designed to provide children with the opportunity to learn the proper running and field event techniques, speed development, and an overall appreciation for the sport. The AMA YMCA participates as a team in the Texas Amateur Athletic Federation (T.A.A.F) Track & Field program, Region 4.
Esports is a video game competition for individuals and teams. Gamers in the Y's leagues and tournaments will enjoy game play in Rocket League, Madden, Smash, Fortnite, Pokemon, NBA2K, FIFA and others.
Regular physical activity benefits health in many ways, including helping build and maintain healthy bones, muscles, and joints; helping control weight and reduce fat; and preventing or delaying the development of high blood pressure.* Exercise is one of the least expensive ways to stay healthy, with one study finding that exercise can prevent chronic diseases as effectively as medication.** 
* (GAO, 2012) ** (British Journal of Medicine, 2013) 
Organized sports activities help children develop and improve cognitive skills.* Physical activity, in general, is associated with improved academic achievement, including grades and standardized test scores. Further, such activity can affect attitudes and academic behavior, including enhanced concentration, attention, and improved classroom behavior.** 
* (Piche, 2014) ** (GAO, 2012) 
A correlation has been found between regular exercise and mental health among students in general as they move into the teenage years.* Children who reported no exercise were twice as likely to have mental health problems, particularly related to anxiety and depression, compared with those who met the recommendation of an hour a day. * (Women's Sports Foundation, 2004)
Frequently Asked Questions